Inventory Clearence Specials
---
---

Actisys IrDA to USB FIR Computer Adapter (IR4000US)
Part Number: IR4000US
Compatibility: Windows 2000, Millennium, 98SE, XP and Vista
The ACT-IR4000US IrDA USB adapter provides a bridge to the USB port of a Notebook or desktop PC, allowing high speed 4Mbps wireless data transfer for record synchronization, file back-up and network access. Note: This product is in bulk packaging and does not include a driver cd or a cable.
---

3Com Wireless Bluetooth USB Adapter (3COM-BTD)
Part Number: 3COM-BTD
OS Support: Works on Windows 98SE/2000/XP with driver download below. Does not work with Vista

Want spontaneous wireless connections between your desktop or notebook PC and other Bluetooth devices? This USB adapter makes it happen. Share files with other Bluetooth PCs with point-and-click ease. Sync your PC and handheld with the push of a button. Or jump on the Internet or network through a Bluetooth access point, or using your Bluetooth phone.
---
---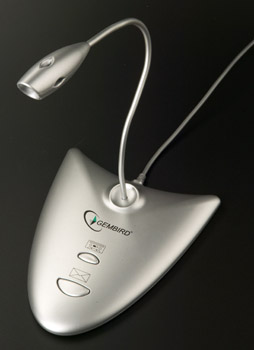 Gembird EMIC USB desktop microphone w/ E-mail function

The easiest and fastest way to record and send voice messaages, music or any other soundrecordings by eMail. One button does all the jobs. Short-time and long-time recording buttons control quality voice recording. Supports VoIP: Skype, MSN, Net2Phone, X-lite, SJphone(SIP) and more! Apple Mac OSX or WinPC 98, ME, 2K or XP.
---